Product Description
Adobe Photoshop Elements 2023
For MAC – Lifetime Activation
Bring out your creativity to share your life stories
With Adobe AI, automated editing options, and step-by-step guidance, you have everything you need to turn your creative inspiration into works of art.
Easy, automated, and oh-so fun.
Your best photos are just a click away. Adobe Sensei AI technology* and automated options do the heavy lifting so you can focus on bringing your vision to life.

Flawless photos are just steps away.
It's easy to grow your skills with 60 Guided Edits. Just follow the steps to make basic tweaks, artistic creations, and everything in between.
Personalized creations for easy sharing.
Great-looking photos deserve a special spotlight. Show them off in dynamic slideshows, elevate them with heartfelt messages, and share them in other creative ways. Explore the built-in prints and gifts service to create gallery-quality wall art, beautiful prints, and unique keepsakes.

Effortless organization.
Clean up the clutter automatically and find photos and videos in a snap using Smart Tags, facial recognition, and more — powered by Adobe Sensei AI technology. Your catalog structure is automatically backed up for easy recovery — so you can work worry-free.
-Automated editing.
-Incredible photos.
-Personalized creations.
Your best photos are just a click away. Adobe Sensei AI technology and automated options do the heavy lifting so you can focus on bringing your vision to life.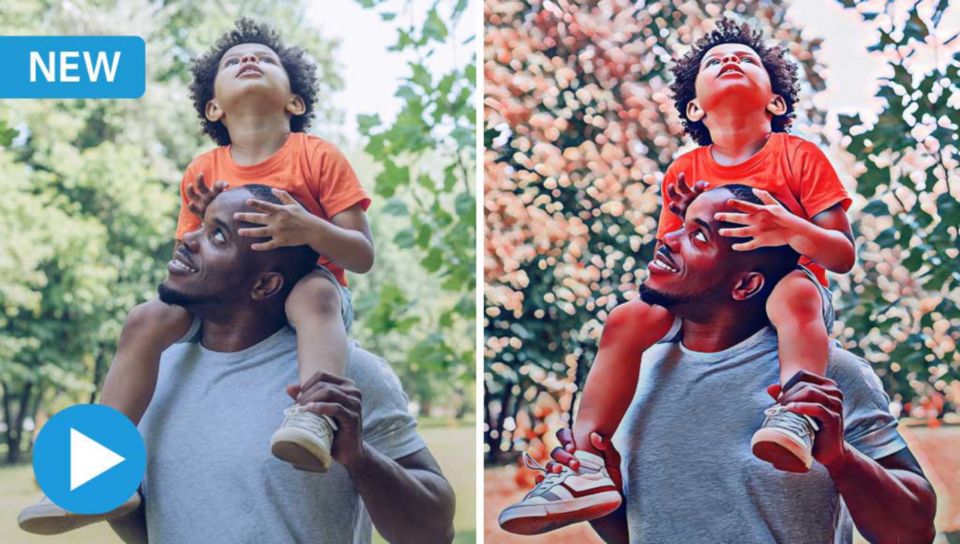 Instantly turn photos into art
In one click, transform your photos with effects inspired by famous works of art or popular art styles. Apply an effect to all or part of your photo, and easily adjust the results for exactly the look you want.

Add moving overlays
Add moving overlays like snowflakes and sparkles, and create fun animated frames. Then save your photos as MP4s to share on social and more.

Warp photos to fit any shape
Place one photo inside another by wrapping it around an object like a coffee mug or fitting it inside shapes like the lenses of your subject's sunglasses.

Turn photos into 3D clips
With one click, transform your favorite shots into moving photos—fun animated MP4s and GIFs with 2D and 3D camera motion. It's easy and perfect for sharing on social media. POWERED BY ADOBE SENSEI.

Redirect gaze with face-tilt
Make sure everyone in your photo is looking in the right direction by automatically adjusting the position of a person's face. It's great for selfies! Powered by Adobe Sensei.

Adjust facial features
Get the perfect shot every time by automatically opening closed eyes, turning frowns upside down, and more. POWERED BY ADOBE SENSEI.

Smooth skin automatically
Make sure everyone always looks their best. Easily soften skin texture without making it look unnatural.
Automatically colorize photos
Give black-and-whites new life or change up the colors in your pics with automatic colorization.

One-click subject selection
Automatically select the subject of your photo with a single click. Then, easily make isolated edits to the subject or the background.

Fun filters and effects
Choose from five Smart Looks—effects that are auto-applied to your photos based on subject, color, and lighting. Or pick your own filter and fine-tune from there!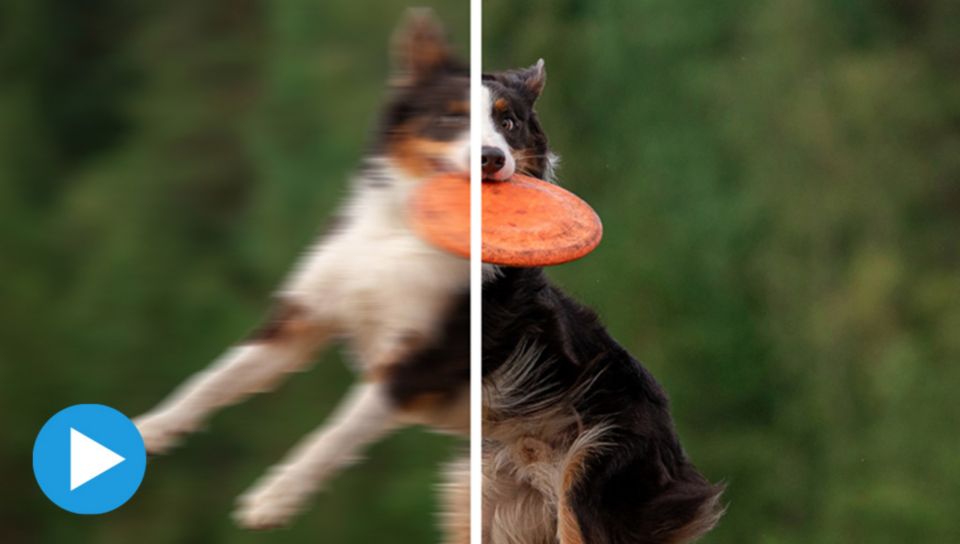 Camera shake happens to everyone. Thankfully, Shake Reduction gets rid of the blur quickly, easily, and automatically.

Create perfect pet pics
Make your furry friends look their best. Frame them up just right, adjust color and lighting, select and refine fur, fix pet-eye, and remove collars, and leashes in a few simple steps.

Extend photo backgrounds
Create a stunning landscape or reposition your subject for the perfect social post by easily extending your photo's background. The magic of Content-Aware Fill makes it all possible.

Erase distractions with ease
Put the focus on your subject by removing people in the background, power lines, and other distractions.

Easily swap backgrounds
Select the subject of a photo and place it on a different background to make your pic even more amazing.

Create cool double exposures
Turn two photos into one work of art with a captivating double exposure effect.