Product Description
This is a digital download product.
You will receive a link to download the software Activation files.
Lifetime Activation. For Windows.
Professional Editing, Color,Effects and Audio Post!
DaVinci Resolve is the world's only solution that combines editing, color correction, visual effects, motion graphics and audio post production all in one software tool! Its elegant, modern interface is fast to learn and easy enough for new users, yet powerful for professionals. DaVinci Resolve lets you work faster and at a higher quality because you don't have to learn multiple apps or switch software for different tasks. That means you can work with camera original quality images throughout the entire process. It's like having your own post production studio in a single app! Best of all, by learning DaVinci Resolve, you're learning how to use the exact same tools used by Hollywood professionals!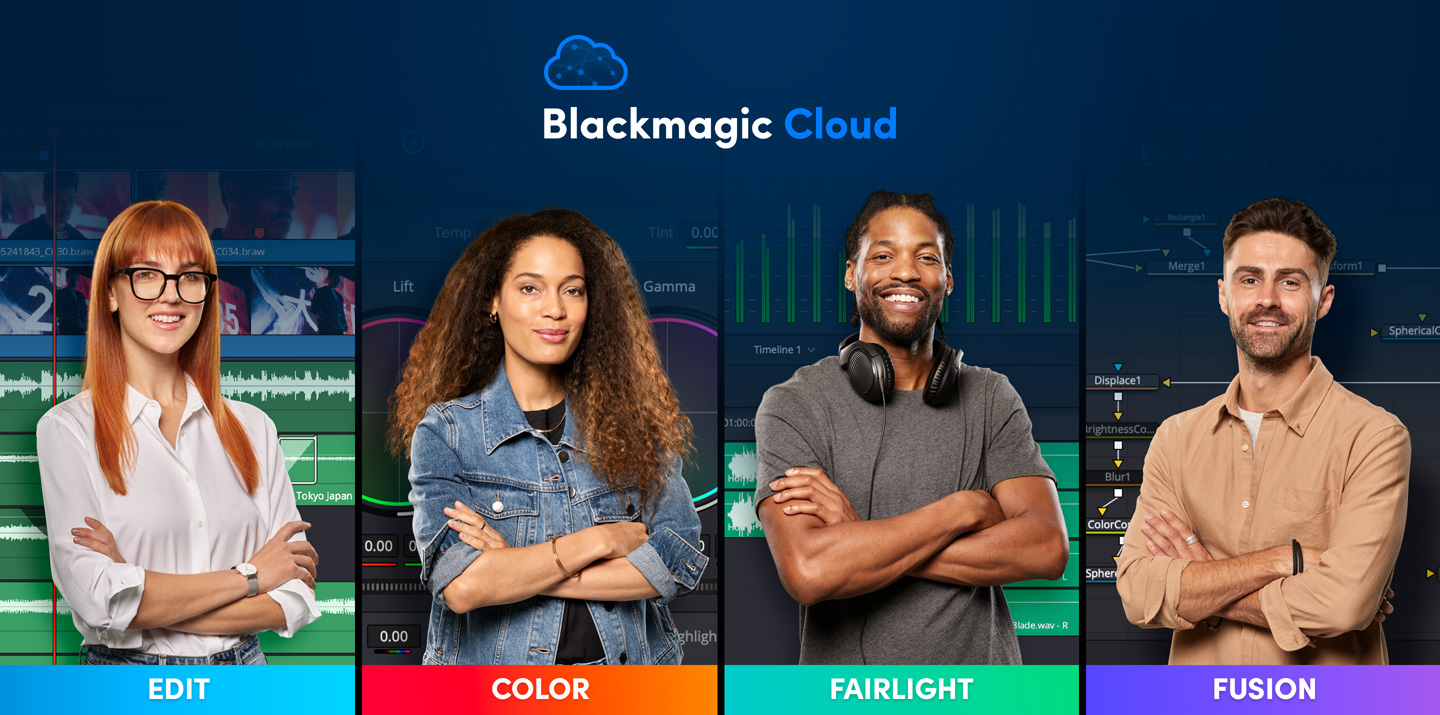 What's New in DaVinci Resolve 17
Blackmagic Design DaVinci Resolve 17 features new image processing for the latest wide gamut HDR, a powerful audio engine, immersive 3D audio workflows and more! Colorists get new HDR grading tools, AI based magic mask and more. Fairlight upgrades mouse and keyboard based edit selection tools along with Fairlight audio core, a high performance audio engine that supports 2,000 tracks on a single system! Editors get a new metadata based "slate" view with bin dividers to organize and find footage faster, zoomed waveforms for audio editing, smart reframing, proxies, live effect previews and more.
In addition, effects, titles or transitions created on the Fusion page can be used on the edit and cut pages!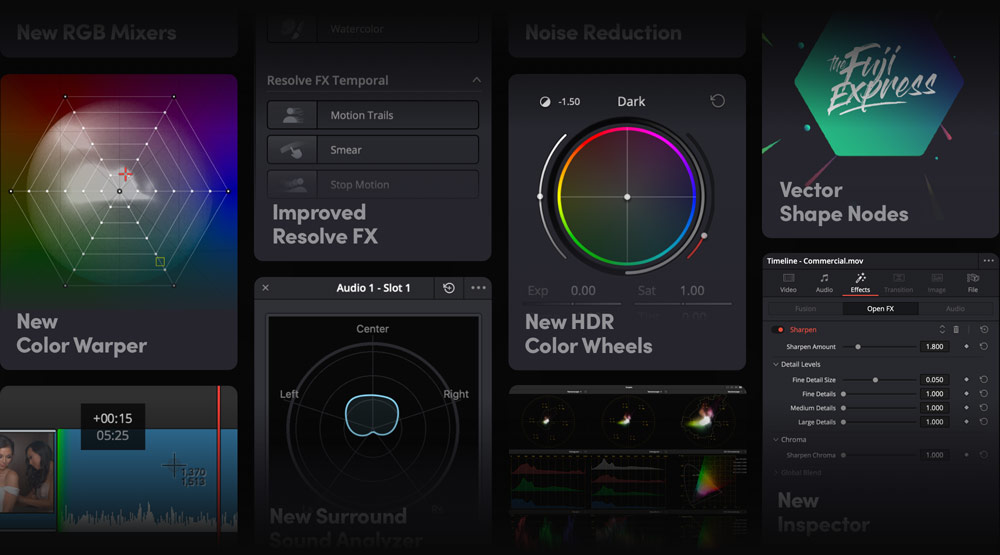 All In One Solutionfor 

Post Production
Blackmagic Design DaVinci Resolve is divided into "pages," each of which gives you a dedicated workspace and tools for a specific task. Editing is done on the cut and edit pages, visual effects and motion graphics on the Fusion page, color correction on the color page, audio on the Fairlight page, and media organization and output on the media and deliver pages. All it takes is a single click to switch between tasks!
Edit
The world's fastest andmost advanced professional NLE.
The edit page is the world's most advanced professional non-linear editor. The familiar track layout, dual monitor design and traditional workflow makes it easy for new users to learn while still being powerful enough for professional editors. It's perfect for larger projects such as feature films, television shows, streaming, commercials, documentaries and more. The edit page features drag and drop editing, context sensitive automatic trimming tools, fully customizable keyboard shortcuts so you can work faster, and a library full of hundreds of titles, transitions, and effects that you can add and animate. You also get complete media management, organization and timeline management tools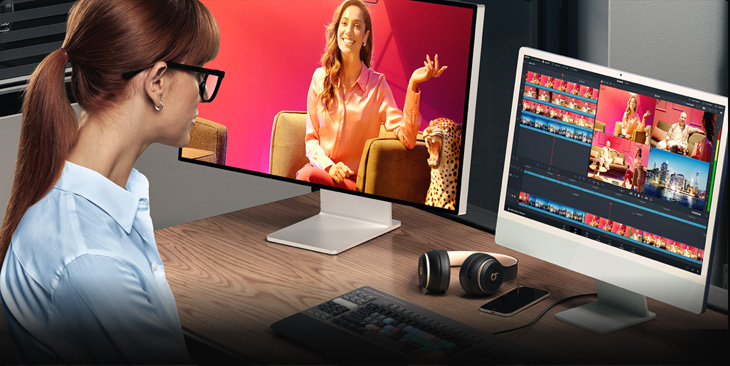 Cut
Designed for editorsto turn around work fast!
The cut page is perfect for projects with tight deadlines that you have to turn around quickly. It's also great for documentary work. The cut page has a streamlined interface that's fast to learn for new users and designed for speed. Features such as source tape, dual timelines, fast review, and smart editing tools help you work faster than ever. The sync bin and source overwrite tools are the fastest way to edit multicam programs, making it easy to create perfectly synchronized cut aways! Everything on the cut page is action based so every click does something. That means you'll spend more time editing and less time hunting for commands. Plus, the scalable interface is great for portable editing!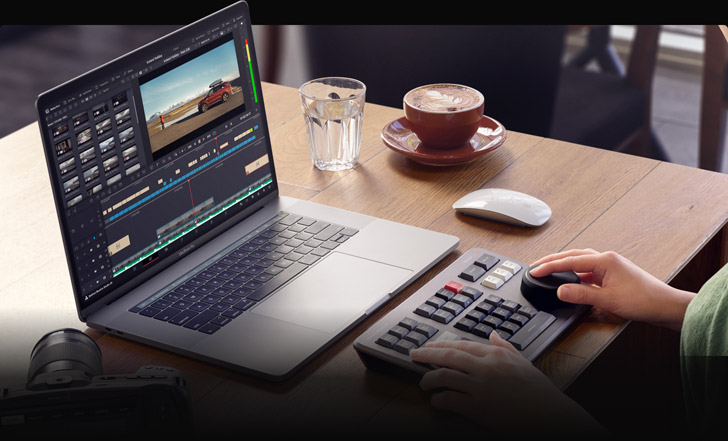 Color
Hollywood's favoritecolor corrector!
The Blackmagic Design DaVinci Resolve color page is Hollywood's most advanced color corrector and has been used to color and finish more high end feature films and television shows than any other system! It's also approachable with exciting new features designed to make it easier for new users to get great results while they continue to learn the advanced tools. For example, new primary control sliders will be familiar to anyone that's used image editing software, making it easy to adjust contrast, temperature, midtone detail, saturation and more. The color page has an incredible range of primary and secondary color grading features including PowerWindows™, qualifiers, tracking, advanced HDR grading tools and more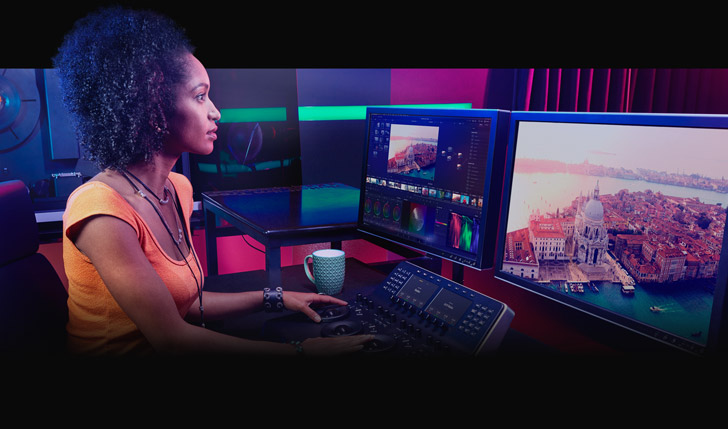 Fusion
Cinematic quality visualeffects and motion graphics!
The Fusion page lets you create cinematic visual effects and broadcast quality motion graphics right inside of Blackmagic Design DaVinci Resolve! Fusion features a node based workflow that makes it faster and easier to create sophisticated effects and animations than you could ever create using a layer based approach. You get hundreds of 2D and 3D tools for visual effects and motion graphics, along with advanced animation curve and keyframe editors that allow you to create incredibly organic and realistic animations. Fusion has everything from point, planar and 3D camera tracking to rotoscope and keying tool for creating photorealistic composites, stunning animated titles, 3D particle systems and more!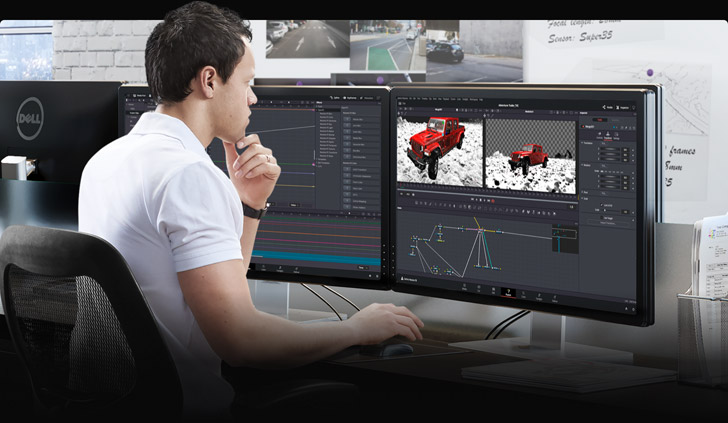 Fairlight
Professional toolsdesigned for audio post production.
The Fairlight page features hundreds of pro tools for audio post production. It's like having a professional digital audio workstation (DAW) built into your editing and color system! Familiar keyboard based editing tools let you work extremely fast, especially if you're moving to Fairlight from another system. The incredible new Fairlight Audio Core lets you work with up to 2,000 tracks at a time with realtime effects, EQ, and dynamics processing! You get sample accurate editing tools, advanced ADR and Foley, and Fairlight FX such as reverb, de-esser, hum remover and more. You can mix and master stereo, 5.1, 7.1, and even the latest immersive 3D audio formats, all within the same project!