Product Description
You will receive a link to download the software Activation files
MAgix vegas pro 20 – Lifetime Activation
No extra fees in the future. 
90 days money back guarantee 

MAgix vegas pro 20 Video editing
Produce fast, high-quality edits while staying focused on your story.
Unlimited video & audio tracks
Storyboard and timeline synchronization
Scene detection
Nested timelines
Adjustment tracks
Keyframing & automation control
Multicam editing
Hundreds of filters, effects, transitions and titles
Customized workflow, shortcuts & layouts
Scripting API
Work with a wide range of formats.
HEVC 10bit 4:2:2
Sony XDCAM & XAVC
Panasonic ADVHD
RED RAW
Blackmagic RAW
MAgix vegas pro 20 HDR color science
Transform RAW high dynamic range video into unforgettable scenes.
Log color correction & grading
Range limited color wheels
White & black point correction
Professional HDR video scopes
HDR10 & HLG in ACES 1.2 color space
Boris FX Primatte Studio – MAgix vegas pro 20
Produce immersive chroma key with Academy Award nominated tools used in the Lord of the Rings, Harry Potter and Spider-Man.
Automatic green/blue screen analysis
Manual transparency tuning
Lighting adjustment to correct unevenly lit screens
Powerful edge correction and cleaning toolset
Integrated Academy Award winning Mocha masking and planar tracking system

Built into the core of VEGAS Pro is a deep learning module designed for creativity and accelerated editing.
Colorization to bring black & white scenes to life
Style transfer to mimic the look of famous artists such as Picasso & Van Gogh
Apply effects to several video tracks on the timeline  faster now. All effects made to the adjustment track will be reflected in the video tracks below.
Color correct and grade multiple tracks
Add enhanced effect chains
Adjust opacity envelopes across multiple tracks
Sophisticated multi-region motion tracking is built directly into VEGAS Pro.
Track objects with changing perspective.
Apply tracking data to text and other objects.
Import tracking data directly from Boris FX Mocha.
Track and obscure faces, licence plates and unwanted objects.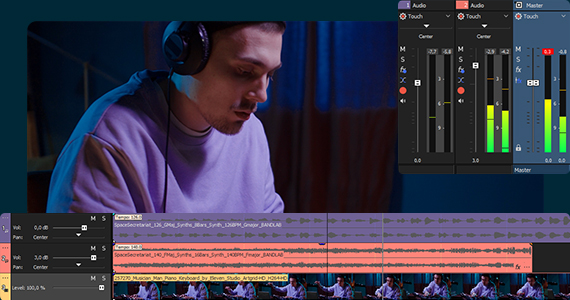 Audio editing with VEGAS Pro
Record, edit and mix camera audio with foley and natural sound.
Automate audio mixes with full control over volume, panning, bussing, audio effects and more.
Create original sound effects and mix with stock sounds.